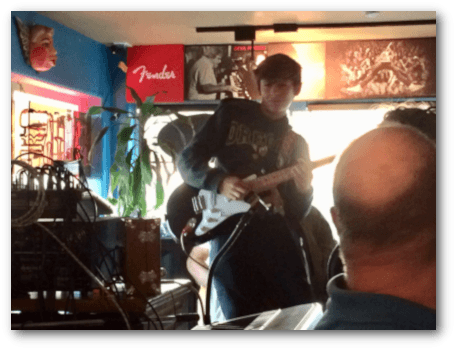 Yachats Underground Pub & Grub hosts the most successful Thursday Night Jam in Lincoln County. It is the "Jam of the Oregon Coast"™
The event has been running for more than six years at the Pub, featuring artists from all over the world. Most genres music can be heard any given Thursday night from sometimes up to nine musicians offering original and cover music.
Musicians are invited to participate in the Thursday Night Jam. It is recommended to bring your own instrumentation, with the exception of large amplification equipment, and public address systems. They are discouraged out right. The pub has its own equipment and its own standards for volume and musical etiquette. This results in a cooperative, productive, entertaining evening that everyone can and does enjoy.
Yachats Underground Pub & Grub is almost always packed to capacity on Thursday nights, and in the warmer months the patio and beer garden are filled with people in addition to the Pub itself. It's a good idea to arrive in the 6 o'clock hour if you are trying to secure a seat indoors. Seating is limited.
It is important to point out that our event is a "managed jam" not an open jam as most would think of it.   If you wish to perform on a Thursday night, please contact the pub and/or leave your number so that our entertainment manager can contact you. There are now so many musicians showing up that we can not guarantee a "shot at the spotlight" if we don't know have advance notice that you are coming.
Take a look at our schedule of events for dates and times of entertainment here at the pub. We are looking forward to seeing you at the jam!