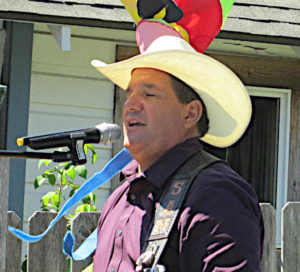 Sam And The Band is scheduled to re-appear LIVE at Yachats Underground Pub & Grub Beer Garden. His show is scheduled for Saturday July 28 at 4PM and runs till 7PM. Because his style is pleasing and funny, patrons will want him to be invited back.
Sam is a great singer, songwriter and entertainer. He is also a dance instructor. Additionally, Sam and the band play "Hard driving Country/Rock" music and are loads of fun to watch and listen to. Sam uses his witty humor to entertain kids and adults alike and it is obvious he enjoys doing it.
Sam performed at the Yachats Underground Beer Garden on Saturday June 30, 2018. Customers loved his debut at the Pub & Grub. Please check the Schedule of Events for more information. Everyone is invited to join us at the Yachats Underground Pub & Grub for this fun show. We hope to see you in the Garden!
More info may also be available on our Schedule of Events