Strange Brew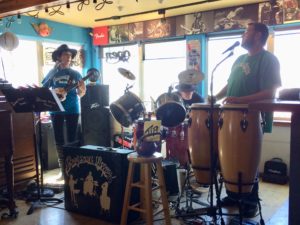 Between its three members, The Strange Brew Band has about a century of professional experience to its credit. Spanning several generations and a broad mix of musical influences, this band truly has something for everyone, and nothing makes them happier than a crowded dance floor.
Jessica Hart (guitar/vocals)
Sean Grubb (harmonica/percussion/vocals)
Rick Colvin (drums/percussion)
The first time Strange Brew's founding members played together, everybody in the room knew they had just witnessed something magical. It was like they had been playing together for years.
Since then, they've gone through a few personnel changes and fine tuned their format, and what was already amazing is now arguably the best band on the Oregon Coast!
They perform an eclectic mix of original and cover tunes. Blues, Rock 'n' Roll, Swing, Country, R & B, Jazz, Latin, Reggae, and even a bit of Classical. This band packs the dance floor and is a great show!
[ngg src="galleries" ids="5″ display="basic_imagebrowser"]
Check out our
event calendar
to see when they return to the Pub. And you can learn more about the
Strange Brew Band
on their
website
.