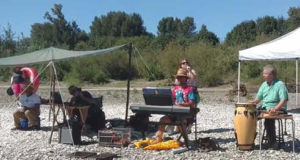 The Barker Gypsies first appearance at Yachats Underground Pub & Grub was a smashing success!
That said, it is important to point out that even a casual observer would likely notice something familiar. The Barker Gypsies share performers with the "world class" Parish Gap Band.
Catherine Ellis and Tom Wright "front" both groups with two completely different styles of awesome music. Featuring piano, harmonica, bass, vocals, and other instruments, the band plays folk, pop, and rock in a folk style.
So if you're looking for a unique entertainment experience, don't miss this show! The Gypsies have been performing in and around Corvallis since 2012 in various configurations and they're not stopping any time soon.
On lead vocals and harmonica is Catherine Ellis, a founding member of the Gypsies.
Brian Poucher, is also a founding member of the band. He plays piano and also adds bass, guitar, and vocals on many songs.
David Wright plays bass guitar, as well as singing and sitting in on piano.
Tom Wright adds whatever a song might need in the way of rhythm or lead guitar, percussion, vocals, or harmonica.
They write original music, and an EP recording called "Easy" is available worldwide online.
"We love to play outdoors for any crowd that wants to experience great music. In the future, we hope to work together to write more songs and make more recordings."
Check out this excellent YouTube video starring the Gypsies playing in their "Island Music" setup on the Willamette River in Corvallis. All recording and mixing for The Gypsies is done by Brian Poucher in his home.
"It's all about family, friends, and a chance to share the love."
So if you have a calendar put a mark on it! The Barker Gypsies are returning to Yachats and no one should miss this show!